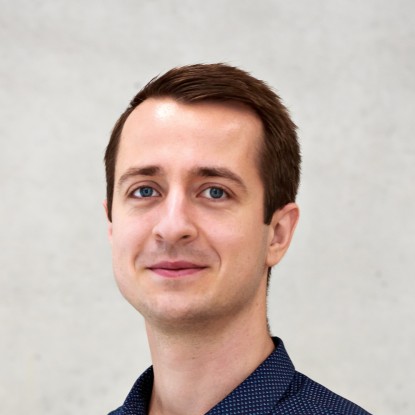 Oleksandr Tkachenko
M.Sc.
PhD Student
Contact
tkachenko@encrypto.cs.tu-...
work +49 6151 16-27303

Work S2|20 213
Pankratiusstraße 2
64289 Darmstadt
I am a PhD student and member of the Cryptography and Privacy Engineering Group (ENCRYPTO) at the Department of Computer Science of Technische Universität Darmstadt, Germany.
My research focuses on the design and evaluation of compilers for privacy-preserving protocols, and the scalability of these protocols. In addition, my interests include the application of secure multi-party computation for privacy-preserving genome research and data mining.
Work Experience
Since 2017/10 Doctoral Researcher at ENCRYPTO
2020/07 – 2020/10 Research Internship at

Google
2016/01 – 2017/09 Student Research Assistant at ENCRYPTO
2015/08 – 2015/11 Student Research Assistant at

Fraunhofer SIT, Germany
2014/12 – 2015/07 Student Research Assistant at

FSR Institute, Technical University of Darmstadt, Germany
Studies
Number of items: 13.
2019
Reith, Robert Nikolai and Schneider, Thomas and Tkachenko, Oleksandr (2019):
Efficiently Stealing your Machine Learning Models.
In: Proceedings of the 2019 Workshop on Privacy in the Electronic Society,
WPES'19 - 18. Workshop on Privacy in the Electronic Society, London, UK, November, 11th, [Conference or Workshop Item]

Järvinen, Kimmo and Kiss, Ágnes and Schneider, Thomas and Tkachenko, Oleksandr and Yang, Zheng (2019):
Faster Privacy-Preserving Location Proximity Schemes for Circles and Polygons.
In: IET Information Security, DOI: 10.1049/iet-ifs.2019.0125,
[Article]

Schneider, Thomas and Tkachenko, Oleksandr (2019):
EPISODE: Efficient Privacy-PreservIng Similar Sequence Queries on Outsourced Genomic DatabasEs.
ACM, 14. ACM Asia Conference on Information, Computer and Communications Security (ASIACCS'19), [Conference or Workshop Item]

Järvinen, Kimmo and Leppäkoski, Helena and Lohan, Elena Simona and Richter, Philipp and Schneider, Thomas and Tkachenko, Oleksandr and Yang, Zheng (2019):
PILOT: Practical Privacy-Preserving Indoor Localization using OuTsourcing.
In: 4. IEEE European Symposium on Security and Privacy (EuroS&P'19),
[Conference or Workshop Item]

Pinkas, Benny and Schneider, Thomas and Tkachenko, Oleksandr and Yanai, Avishay (2019):
Efficient Circuit-based PSI with Linear Communication.
In: 38. Advances in Cryptology -- EUROCRYPT 2019,
Springer, [Conference or Workshop Item]

2018
Schneider, Thomas and Tkachenko, Oleksandr (2018):
Towards Efficient Privacy-Preserving Similar Sequence Queries on Outsourced Genomic Databases.
In: 17. Workshop on Privacy in the Electronic Society (WPES'18), pp. 71-75,
ACM, DOI: 10.1145/3267323.3268956,
[Conference or Workshop Item]

Järvinen, Kimmo and Kiss, Ágnes and Schneider, Thomas and Tkachenko, Oleksandr and Yang, Zheng (2018):
Faster Privacy-Preserving Location Proximity Schemes.
In: 17. International Conference on Cryptology And Network Security (CANS'18), pp. 3-22,
Springer, DOI: 10.1007/978-3-030-00434-7_1,
[Conference or Workshop Item]

Tkachenko, Oleksandr (2018):
Privacy-Preserving Genomics on a Large Scale.
In: 29. Workshop der Fachgruppe Kryptographie in der Gesellschaft für Informatik (Kryptotag),
Fachgruppe Kryptographie in der Gesellschaft für Informatik (GI), Bosch Renningen, Germany, 6.-7.9.2018, [Conference or Workshop Item]

Richter, Philipp and Yang, Zheng and Tkachenko, Oleksandr and Leppäkoski, Helena and Järvinen, Kimmo and Schneider, Thomas (2018):
Received Signal Strength Quantization for Secure Indoor Positioning via Fingerprinting.
In: 8. International Conference on Localization and GNSS (ICL-GNSS'18), pp. 1-6,
IEEE, DOI: 10.1109/ICL-GNSS.2018.8440910,
[Conference or Workshop Item]

Riazi, M. Sadegh and Weinert, Christian and Tkachenko, Oleksandr and Songhori, Ebrahim M. and Schneider, Thomas and Koushanfar, Farinaz (2018):
Chameleon: A Hybrid Secure Computation Framework for Machine Learning Applications.
In: 13. ACM Asia Conference on Information, Computer and Communications Security (ASIACCS'18), pp. 707-721,
ACM, DOI: 10.1145/3196494.3196522,
[Conference or Workshop Item]

Tkachenko, Oleksandr and Weinert, Christian and Schneider, Thomas and Hamacher, Kay (2018):
Large-Scale Privacy-Preserving Statistical Computations for Distributed Genome-Wide Association Studies.
In: 13. ACM Asia Conference on Information, Computer and Communications Security (ASIACCS'18), pp. 221-235,
ACM, DOI: 10.1145/3196494.3196541,
[Conference or Workshop Item]

2017
Tkachenko, Oleksandr (2017):
Large-Scale Privacy-Preserving Statistical Computations for Distributed Genome-Wide Association Studies.
TU Darmstadt, [Master Thesis]

2012
Tkachenko, Oleksandr (2012):
Методи адаптивноi фiльтрацiї в системах мовного вводу.
Kherson National Technical University, [Diploma Thesis or Magisterarbeit]